Forbo Flooring Systems of Ripley have agreed to provide carpet tiles for the new Greenwich Park pavilion, having responded to an appeal for local support for help with fitting out the inside of the building.
The new pavilion, which will be managed by a community group – 'The Greenwich Park Sports Partnership,' is on schedule for completion in December, with the formal opening in early January 2019 following internal fit out.
This ambitious and imaginative project is designed to provide first-class facilities for local sports players alongside expanded community use. It is being generously supported by grants from Amber Valley Borough Council, Ripley Town Council, Sport England, the English Cricket Board and through fundraising by the local sports clubs.
Chloe Taylor from Forbo Flooring Systems stated: "We were pleased to respond to the appeal for local companies to help with fitting out the new pavilion. As a local company, based almost next to Greenwich Park, we feel it is important that the community has the very best facilities for sport, recreation and social activities."
The Greenwich Park Sports Partnership would welcome any further assistance of this kind, however small, especially with offers of white goods and community-room furniture. If other local businesses can help in any way, please email greenwichparksp@gmail.com.
Alongside new sports changing facilities, the large community room has been specially designed for use by local community or business groups for meetings, training activities, conferences or business seminars and can be booked for daytime or evening use.
The concept of the Greenwich Park project is to provide a facility which may be used not only for sport but also to serve as a focal point for the broadest range of community and business activities. Let us know if you are interested!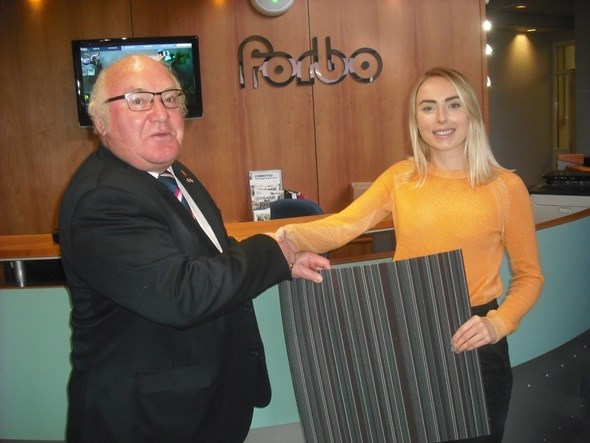 Chloe Taylor from Forbo Flooring Systems presenting the Chair of the Greenwich Park Sports Partnership, Roland Emmas-Williams, with carpet samples for the new facilities.
Need further help or information?
Contact the team directly on 01773 570222 or email enquiry@ambervalley.gov.uk