With Coronavirus (COVID-19) now affecting many areas of our services to the residents and businesses of Amber Valley, we are keen to keep you right up-to-date with the changes we are being forced to make. Read more about your council services.
New sports changing rooms and a community facility at Charles Hill Recreation Ground, Loscoe, have moved a step closer with Amber Valley Borough Council's cabinet approving to fund the next 'detailed design' stage for the building at a recent meeting. 
Cabinet members considered initial designs and high-level costs and have now commissioned architects and technical consultants to undertake further works to support the submission of a planning application for a single storey building to replace the one which was demolished in 2015.
The detailed designs will incorporate a multi-purpose community room and match officials changing room, compliant with the Football Associations guidance, along with separate male, female and disabled person's toilets and a kitchen / bar capable of being used for a wide range of other activities, events and functions.
The project is being co-funded by Amber Valley Borough Council and Heanor and Loscoe Town Council. Further grant funding applications are being made to the Football Foundation as Charles Hill was identified as a priority site for investment in the Football Association's Local Football Facility Development Plan for Amber Valley.
Amber Valley Borough Council's portfolio holder for environment, Councillor John McCabe, commented, "This new building will be an important addition to the local amenities in Loscoe. The designs are very exciting, and we look forward to seeing the local community make full use of the new facilities when the building is complete."
Leader of Heanor and Loscoe Town Council, Councillor Paul Jones, added, "The town council has been committed, ever since the original building was demolished, to see this site developed for the community of Loscoe. I have every confidence that working in partnership with the borough council and the other interested parties this will be delivered and sooner rather than later. The size of the town council's commitment sees the largest financial investment in its history into this project."
Pictured from left - Councillors Hannah Stirland (Amber Valley Borough Council) Celia Cox (Heanor and Loscoe Town Council), John McCabe (AVBC), Paul Jones (HLTC), Kieran Hill (AVBC).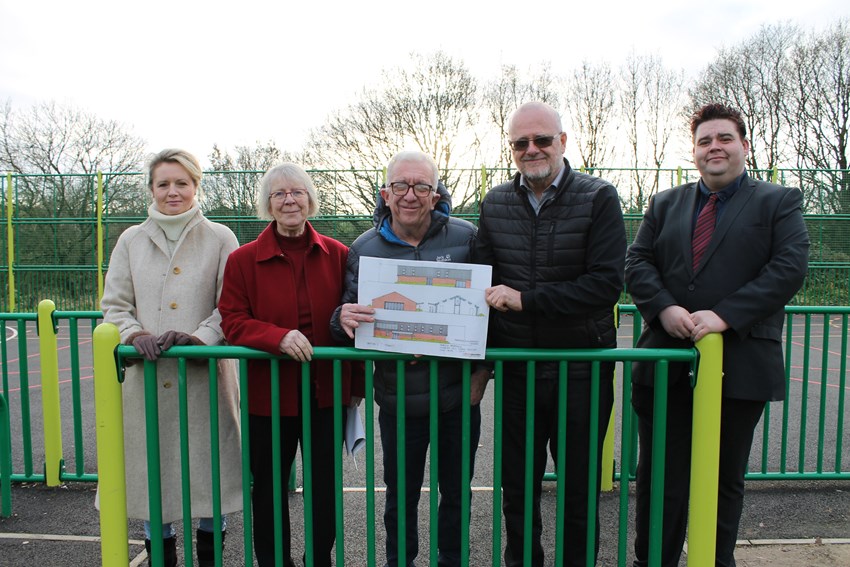 Need further help or information?
Contact the team directly on 01773 570222 or email enquiry@ambervalley.gov.uk