A crime prevention project has stirred a call to action in six Amber Valley streets after a trio of organisations partnered to tackle anti-social behaviour.
In a joint venture between Amber Valley Borough Council, Futures and Derbyshire Police, a round of 'Day of Action' events saw hundreds of crime prevention items handed out in the region, whilst engaging with the local community to plan for the next steps.
Councillor Lyndsay Cox, Deputy Cabinet Member for Community Safety at Amber Valley Borough Council said: "The events have been a tremendous success. Some 300 households have been consulted via face-to-face door-knock surveys, or surveys left for them to return. To date, the team have received 180 responses from the targeted areas – these chosen locations were based on independent data from Futures Housing Group, Amber Valley Borough Council and Derbyshire Constabulary. An online survey for the wider area is still live and running until the end of the year."
Local councillors, organisers, and residents - both adults and children - got involved with the 'Day of Action' events, which took place over six dates across July, August and September. Residents in selected streets in Ripley, Somercotes, Heanor, Belper and Alfreton were asked for their views on tackling crimes such as anti-social behaviour and environmental issues.
Crime prevention aids were handed out to residents, including personal alarms, solar lights, door and window alarms, shed and bike locks and high visibility stickers. The teams also offered advice over a cuppa and a snack before joining with residents for a litter-picking challenge.
Councillor Lyndsay Cox said: "The team initially set out to provide three event days, but the response was so positive that we extended it to six days. The team plans to follow up with a second survey to gauge the effectiveness of partnership working and measure the outcomes from previous events. They plan to roll this type of project out to other areas next year to help prevent crime and anti-social behaviour. Collaborative working ensures knowledge is shared and as such issues are effectively and efficiently dealt with".
Janene Haywood, Community Engagement Project Delivery Officer at Futures said: "The events brought neighbours together who hadn't properly spoken to each other before which was lovely to see.
"Having this collaborative approach meant customers could speak to a variety of people. Whether that was speaking to one of our new Safeguarding and Domestic Abuse Coordinators, their Community Housing Officer, a local PCSO or Community Safety Officers from Amber Valley Borough Council. The range of advice on offer for customers was brilliant."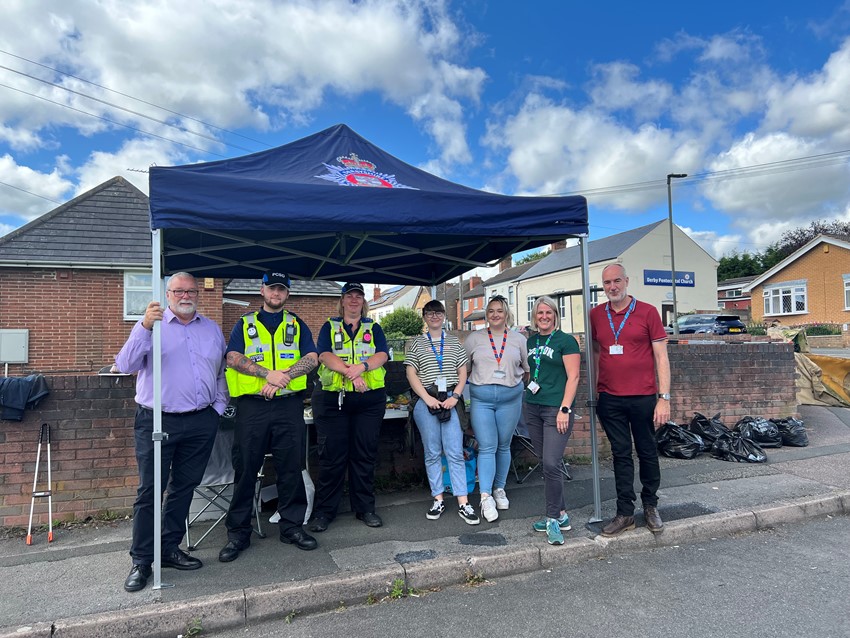 Need further help or information?
Contact the team directly on 01773 570222 or email enquiry@ambervalley.gov.uk